Are You Looking for the Best Texas Criminal Appeals Attorney?
If you're looking for the best Texas Criminal Appeals attorney, then we want to represent you. As you can see from our website, our award-winning attorneys have significant successful appellate experience.
Attorney Paul Saputo represents clients in appellate courts for direct criminal appeals and in trial and appellate courts for writs of habeas corpus. If you have been convicted of a criminal offense, you can appeal the conviction through a direct criminal appeal or through a Writ of Habeas Corpus. If you are looking for an authoritative Texas criminal appeals attorney, call us or book a consultation today.
How do we do it?
The normal process to get post-conviction relief begins with the filing of a notice of appeal or motion for new trial. Please do not file a notice of appeal until you have consulted with a Texas criminal appeals lawyer. You will waive your rights to a motion for new trial if you do that, and you do not want to do that. Once your notice of appeal has been filed, you will need to obtain a trial transcript and clerk's transcript.
The habeas corpus process is more complicated because it usually involves its own investigation. You can appeal a criminal conviction to the Texas Courts of Appeal, the Texas Court of Criminal Appeals and finally to the United States Supreme Court.
We believe that we are effective because our trial practice informs our appellate writing and oral advocacy, and we have the victories to prove the effectiveness of this winning combination.
Strict time limits apply in appellate work, and the defendant / appellant has the responsibility to file everything in a timely manner. The appellate courts in Texas will hold it against the defendant if he or she file late or improperly. If anything goes wrong, there may be no (or limited) recourse available. In addition to preparing the filings, the firm will need time to strategize and plan your best post-conviction response. So please contact us immediately.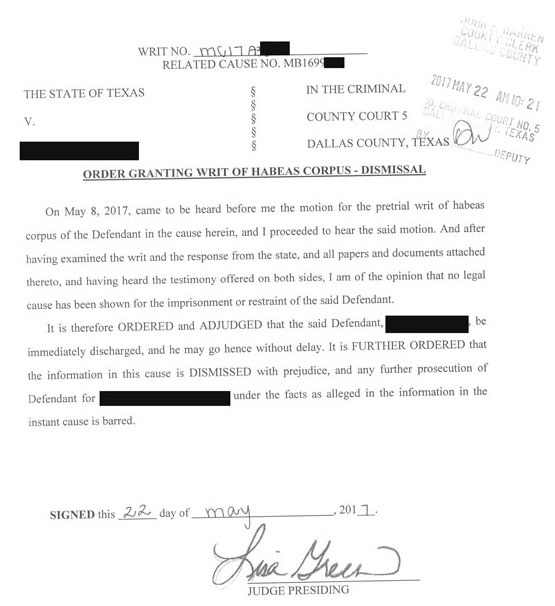 We're not just criminal defense lawyers. We are warriors fighting unjust and corrupt government prosecutions with a history of success and a reputation for tenacity, courage and legal ingenuity.
Most of our clients who needed a Texas criminal appeals lawyer came to us after a bitter disappointment at trial. We understand what you are going through, and we are here to help. When you need someone to really and truly fight the courts after a devastating loss, we stand ready.
Do you need to hire a lawyer a Texas Criminal Appeals Attorney? Book a consultation with attorneys Paul Saputo and Nicholas Toufexis today.
We have compiled answers to some frequently asked questions about Texas criminal appeals, the criminal appellate process and writs of habeas corpus below:
What is the difference between a Writ of Habeas Corpus and a Direct Appeal?
In a criminal appeal, the appellant asks another criminal court to review the law that the judge in the trial court applied. Generally speaking, we represent the appellant. Writs of habeas corpus take into account a broader range of issues, but they do not generally address the conduct of the trial court.
Article 11.07 of the Texas Code of Criminal Procedure creates the Texas statutory framework for habeas corpus. Lawyers consider write of habeas corpus in Texas a "remedy of last resort" for extreme violations of the constitutional rights of a criminal defendant. Writs of habeas corpus involve what we call "collateral attacks." This means that we delve into the facts that the original set of lawyers might have missed. Writs of habeas corpus may also be used for interlocutory purposes – meaning before the case has a final judgment.
Get started filing an Appeal or Writ
If you believe that you should file an appeal or a writ, it is important that you contact us as soon as possible. We will begin by discussing your case and whether we can accept it. If we accept your case, we will interview our client to understand what the client wants to do. We may begin by filing a notice of appeal, or we may decide to first do a motion for new trial.
How to appeal your conviction
To appeal your conviction, you will need to file a notice of appeal, a docketing statement and obtain the trial transcripts. After you obtain all of the documents, you will need to prepare an appellate brief. The state will respond to the appeal, and you may file a reply to the response. If an appellate court requests oral argument, you will need to prepare a presentation.
All criminal appeals require legal research and analysis that you or your lawyer must compile into the brief. The primary work of a Texas criminal appeals attorney is preparing the brief. However, sometimes courts of appeal require an in-person appearance for something called an oral argument. In an oral argument, your attorney will argue your brief, respond to the court's questions, and address the state's arguments.
Are you entitled to an appeal?
Unless you waived your right to appeal as part of a plea-bargain agreement, you may file an appeal of your criminal conviction. Even if you waived your right to appeal, you may still file a writ of habeas corpus. However, do file a notice of appeal without first consulting a Texas criminal appeals attorney because you will likely need to file a motion for new trial in order to preserve your rights. Please book a consultation with us to learn more about this process.
How do I file a Writ of Habeas Corpus?
The basic idea of a writ of habeas corpus is simple: the writ is a request to bring a person before the court and explain why that person is being held against their will. Beyond that basic idea, however, lies an immense amount of legal complexity. Similar to criminal appellate briefs, writs of habeas corpus require legal research. However, unlike criminal appeals, writs also require fact-gathering independent of a review of the trial court proceedings. Federal writs of habeas corpus involve separate processes from state-level writs.
How does a Texas criminal appeals attorney win an appeal?
Many people say that Texas criminal appeals do not stand a high chance of winning. Although hat statement does reflect reality, it does not take into account that inmates file many of the losing appeals. Furthermore, most convictions do not have legitimate issues preserved for appeal. If you have a legitimate issue preserved for appeal and the resources to properly file the appeal, your chances of winning drastically improve.
In order to win at the appellate level, a Texas criminal appeals lawyer must possess skill in research and writing in addition to understanding criminal trial practice. All appeals require significant legal research in addition to many rounds of drafting and editing. Once an appellate court requests oral argument on the merits of the brief, we prepare exhaustively for the oral presentation.
Paul Saputo was voted one of the Three Best Rated Criminal Defense Lawyers in Dallas